I'm sitting on my towel on my garden bench because I'm trying to figure out a big problem.
It's a holiday in Malaysia tomorrow because it's the Prophet Muhammad's Birthday, and Mummy Cat just told me that she's going to the market to buy something nice for lunch.
"If you like, I'll buy you something nice for breakfast too. Would you like that, my kitten kersqueezul?"
That's what she calls me, see? Kitten kersqueezul, angel darling sweetie pie, cat kerfliffle, and squeezlebug cat fluff. Au used to say it's because she's nuts but I think it's because I'm special and I deserve special names. It makes me purr when she talks that way.
"If you're purring that means yes," Mummy Cat said. "Now what would you like for breakfast tomorrow?"
So now I've got a problem because I don't know what I want.
On Saturday I had crab Shaomai and shrimp dumplings because we always have Dim Sum on Saturday mornings and those two are my favourites. Yesterday I had barbequed chicken that was left over from Saturday lunch. This morning I got really lucky because Mummy Cat was making boeuf bourguignon so I got steak!
They're all my favourites and now I don't know what I want! Well, apart from seconds. I really need seconds because Guido is always getting stuff too. He scoffs Dim Sum, chicken and steak like he's got a python stuffed down his paws! He eats efurrything!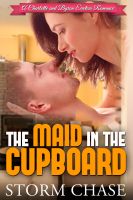 Hmm, I think I know what I want. Just roll your mouse over me to find out!
When Master Byron makes a pass at Charlotte the housemaid, and some unexpected visitors turn up, the cupboard beckons. A sweet short story with a twist in the end. The Maid In The Cupboard (A Charlotte and Byron Erotica Romance) [Amazon Kindle Edition] [Amazon UK Kindle Edition] [International Smashwords Edition]